AIRLINE STRIKE COMPENSATION
Claim up to €600 in compensation for airline strike.
Ask us:
HOW TO CLAIM airline strike COMPENSATION?
How often do you see such headlines in the press or at check-in at the airport?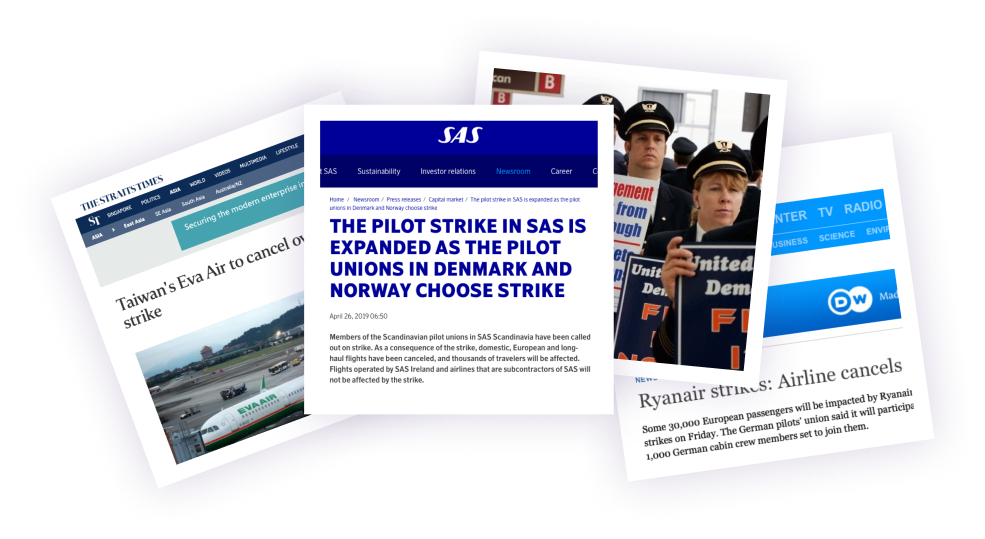 When an airline's staff goes on strike, it results in heavy flight disruptions.
This greatly inconveniences air passengers. If you have experienced delays due to airline strikes you may be entitled up to €600 in airline strike compensation.
You are eligible for strike compensation if:
You had a flight disrupted by an irline staff strike;
Your flight was either delayed by 3 hours or more, or was canceled less than 14 days before it was due to depart;
Your flight was set to depart from the EU or was on an EU airline arriving in the EU;
You had a confitmed flight reservation;
The disruption occured within the last 3 years;
If you took a replacement flight, your new arrival time was significantly different to your original flight.
Airline staff strikes are strikes involving the employees of the airline carrier, including pilots, cabin crew, airline engineers, and other employees working directly under the airline. If you book a flight which is disrupted because of an airline strike, the airlines may owe you compensation to make up for the inconvenience.
That's because under a piece of EU law called EC 261, airlines are required to compensate passengers for flight disruptions that they are responsible for. That includes flight disruptions due to airline staff strikes. So if your flight was canceled due to a strike, you may be eligible for compensation under the EC 261 regulations.